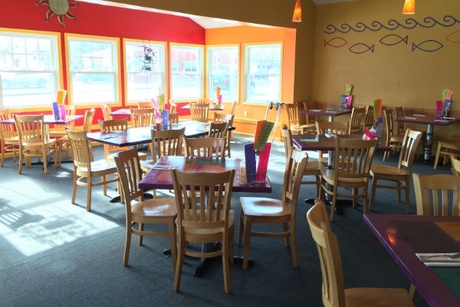 Mikey B's hosts private events and gatherings for up to 100 people, creating an exquisite and personal event with lovely food, full bar, and a great atmosphere. Between our fresh seafood, appetizers, and delicious sandwiches we are sure to make your party a hit with all your guests!
Baby showers
Wedding showers
Post-funeral receptions
Graduation dinners
Business functions
Holiday gatherings
Cocktail parties
Browse the menus below, or contact our friendly staff and we will put together a menu of food items that fit your party style.
Fill out the form to reserve your party or to inquire further. Or call us at 508-985-0002 to discuss your needs.
Options
View our Party Platter Menu for Takeout and Delivery
All prices are per person. 7% sales and meals tax will be added. Service and gratuity charge is additional and not included. Deposit is required to secure parties.
ULTRA THIN CRUST PIZZA & APPETIZER BUFFET
18.99
Choose 4 assorted topping pizzas
Scallops Wrapped in Bacon
Chourico Puffs
Mini Fish and Chips
Chicken Tempura With B.B.Q & Buffalo Dipping Sauces
Mini Bacon & Cheese Potato Skins
---
FULL BUFFET
28.99
Carving Station with Condiments
Choose
Roast Beef
Easter Ham
Roast Pork or Turkey
Includes
Olives & Pickles
Fresh Garden Salad or Caesar Salad
Rice Pilaf or Roasted Red Bliss Potatoes
Crusty Breads & Rolls
Dayboat Schrod Seasoned Breadcrumbs (options)
Chicken with Roasted Peppers & Caramelized Onion (options)
---
NEW ENGLAND CLAM BOIL
Off-Premise Catering: 45.99
Cup of Clam Chowder or Stuffed Quahog
1 Quart Maine Steamers
Red Bliss Potato
Corn on the Cob
Onion & Hot Dog
Linguica & Sausage
Chourico
Homemade Dessert
---
BREAKFAST
Plated or Buffet
16.99
Bacon & Sausage
Homemade Scrambled Eggs
Red Bliss Home Fries
Maple Cinnamon French Toast
Coffee & Tea
Add-ons
Orange Juice 1.00
Muffins & Danish 1.50
Fresh Fruit & Melon 1.50
Assorted Quiche 2.00
Eggs Benedict 2.00
Ham 3.00
Roast Beef 3.00
Roast Pork Carving Station 3.00
---
CONTINENTAL BUFFET
12.99
Orange Juice
Muffins & Danish
Fresh Fruit & Melon
Coffee & Tea
---
Catering and Private Party Request Form
Please fill out the form below with your information and our Chef will follow up quickly to make arrangements or answer questions
Party Platters for Takeout and Delivery
Make your holiday gatherings easy with our pre-cooked party platters! Order ahead for Friday, Christmas Eve, as our party platters will be available for pickup and delivery from 12-3pm only.
Each tray is 10×12″ and is recommended for 6-12 people. Remember to pair entrees with sides and salads for a complete meal!